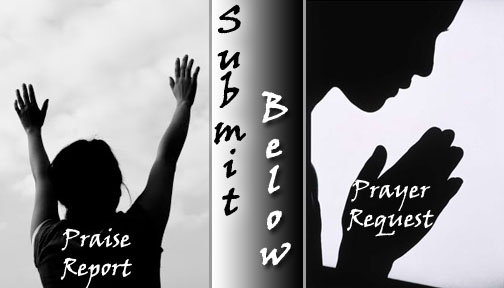 "Call to me and I will answer you..." - Jer. 33: 3 (NIV)
"(15)And the prayer offered in faith will make the sick person well: The Lord will raise him up. If he has sinned, he will be forgiven. (16)Therefore confess your sins to each other and pray for each other so that you may be healed. The prayer of a righteous man is powerful and effective." - James 5 : 15-16 (NIV)
Current Prayer Focus
The Vision & Needs Of This Ministry > Philippians 4:19

Finance & Laborers To Support The Vision > Matthew 9: 38

The Ministries Of The Church

Salvation Of Souls > Hosea 10:12 / John 16:8 / Romans 10:17

Needs Among Us > Mark 11:20 - 24 / III John 1:2

Our Country
Join us Wednesdays @ 11am at the sanctuary for prayer, or click on the requests below to let us know you are praying for those needs too.
Prayer Request Form
God Save Eric McDonald

posted by: Alfred Brown on 5/16/2017


God Save Eric McDonald!!!! Prayer Request: Please pray for Eric McDonald-Pray for his salvation.Pray that God's love will heal Eric's heart, Eric's mind and Eric's soul.Pray for God's BEST for Eric.Eric suffers from mental and emotion serious problems.He needs real help.We do not know where he is now nor how he may be….We are concerned about his future. He needs to meet real christian friends that will help and encouragement… He needs to find a GOOD Church where he can find a christian home and friends. He needs a GOOD pastor to teach him… He has been suffered and hurt him from childhood. Pray God will teach Eric to be filled with happiness , joy, peace, and hope. Eric needs to be part of a good church-a place of prayer and faith!!! Pray for a miracle healing in his heart, soul, spirit, and life. Pray for experience of forgiveness and the grace to forgive those that hurt him. He needs to be free from bitterness danger… Please stand with Eric;pray he can and will be able to go home a new man in Christ… Pray all demonic attacks will be broken forever. I want Eric to see his Savior, Lord, Redeemer, Friend, and Helper!!!! HELP!!!!!!! Thank You, Alfred O Brown Jr
I will pray

3 people are

praying.

Pray tor health

posted by: Gina on 5/9/2017


Please pray that my physical exam comes out good thanks and God bless you
I will pray

2 people are

praying.

Hughes

posted by: Angela Hughes on 5/9/2017


First let us give the Lord thanks for the abundance of all things.Please pray that the Lord would deliver his people from evil men; That the Lord would preserve his people from violent men, who plan evil things in their heart and stir up wars continually. Pray against the spirit of anti Christ,false witness,terrorism hatred and violence. Please pray and intercede without ceasing that God's will be done in the lives of the world's leaders and for President Trump and our leaders to seek God and listen to Him. Pray that they would be surrounded by godly counsel and, that our leadership would personally know God and the salvation found through faith in Jesus Christ alone. That we may live peaceful and quiet lives in all godliness and holiness. God can turn the hearts of kings. Earnestly pray that the people of America and its leaders will humble themselves and seek the Lords face and turn from their wicked ways. Pray that the Lord would hear from heaven and forgive our countries sins and heal our land. God Bless America Pray that the Lord would grant peace in America, that we may lie down and no one will make us afraid. That the Lord would remove wild beasts from the land, and that the sword will not pass through our country Please pray for revival and that the Lord would pour out his spirit on his servants, throughout the world both men and women. Pray for the peace of Israel. Gods will be done on earth as it is in heaven.In Jesus Name, Amen.
I will pray

3 people are

praying.

morris

posted by: brenda morris on 5/1/2017


please pray that i find a place to stay before its too late pray that my income comes in time also for my health problems and that i find my wallet also that i sell all the furniture in the house also that i find someone to love me for me and have a family of my own
I will pray

3 people are

praying.

Please pray for Poland, Church in North America and our service to the God

posted by: Edmund Krzeminski on 4/22/2017


[We read] In the King James Bible, Ezekiel 22:30: "And I sought for a man among them, that should make up the hedge, and stand in the gap before me for the land, that I should not destroy it: but I found none." O God, please help us and teach us to build a wall [of prayer] around the USA, Canada and Poland. Are you ready to stand in the gap, where God is the Helper and Teacher? Please pray that Poland, the USA/Canada would overcome for: (The Acts 26.18). * Poland, pray for freedom from dead religion to saving faith in God through Jesus Christ as the Saviour and the Lord by grace only, * the Church in the USA, Canada – Pray for repentance and cleansing of the church--Matt. 3.12 "Whose fan is in his hand, and he will thoroughly purge his floor, and gather his wheat into the garner; but he will burn up the chaff with unquenchable fire." * my family: 1. Stir up the hearts of my family for ministry—for me, my wife Dorothy, our daughter Ann, and our sons Peter and Daniel - "..but as for me and my house, we will serve the Lord" Joshua 24.15. 2. Pray God's will and wisdom for me and my family; I ask God for great wisdom in school for Daniel, and for Edmund's work situation, for Dorothy and Peter (also God's direction for his life) and Ann (Ann needs a husband), 3. God's order in my work. I ask God for great wisdom at my work. Blessings and the knowledge of Jesus Christ for my bosses. Thank God for the continuation of my work. Edmund Krzeminski
I will pray

4 people are

praying.

Healing and Finances

posted by: Pat H on 4/21/2017


Please pray and agree with me for me to be healed now. The Dr has said I am in complete total kidney failure. my hair is falling out in patches. My body is covered with an incurable disease on my skin and some burns.It has spread to my face I look like a monster. I have to take a round of new test on Monday.The Dr said they the test must show improvement and progress. I really can't take much more. With all of this now I can't work, please pray for an increase in my finances and my marriage of 30 yrs is now strained. Thank you so very much.
I will pray

4 people are

praying.

please pray for me

posted by: erika on 4/5/2017


Please pray for me, my name is ericka to my powerfull and awesome Hashem in the name of Yeshua. Pray for me so that Hashem in the name of Jeshua grant me the wishes of my hearth in a miracleless way total victory over powerfull enemies that I am confronting please grant me by your mercy total victory over them. Please pray to Hashem in the name of Yeshua so that Hashem touch the hearth of Isabel de S. Carlos S, Lizbeth S, Luis. kathya every one in Luis office, kevin, stefanny, kathy, amparo, tia emilce and all her family, the new son of Carlos,Rafael Salazar Sanchez, Brenda her father and all her cousings please dear Powerfull and wonderfull Jeshua put their hearths , minds , and will in my favor and also that I may find grace in front of them and my mother and dauthers as well. Please pray for me to Hashem in the name of Jeshua for Hashem to grant me the desires of my heart, supernatural wisdom to manage all the situations that I am confronting, and total victory because i am confronting powerfull enemies, Intelligence, perspicacia, grace, victory, economy blessings Thank you Hashem i praise you in advance for granting me and giving me all of this thank you Hashem, I praise your name oh Hashem in the name of Yeshua....... Father thank you. atte ericka
I will pray

3 people are

praying.

Prayer for reconciliation

posted by: Hepzibah Mary on 4/2/2017


I had a friend and he was my dearest and best friend. There was great love and understanding between us. We were there for each other. I loved him greatly and still love him. He means a lot to me. But in January we had a small misunderstanding and since then he has stopped talking to me. I tried many times to set things right between us but he is adamant. He ignores all my messages and it has greatly affected me. He is the only friend I have. I miss him greatly. I am emotionally disturbed. I have been praying to God to give him back to me. I humbly request you to pray for me – for my friend to understand. He also needs emotional and physical healing. He is very sick.
I will pray

4 people are

praying.

Tom

posted by: Toni L Daniels on 3/30/2017


I have a couple of prayer requests. Can please share with your prayer team please. Can you please pray That Tom Komis would realize that he loves me deeply and can and does not want to live without me . God restores our relationship. Thing is very important too me. I lost everything the less 5 years. Can you please really hard that Tom says he is sorry and comes back. And Tom realizes that he need God more and that he would call me up and ask me too marry him again and really follow thru. I love him deeply but I cannot change him only God can. That he will get his ex wife completely out of his life. He wants to keep her as a friend and it is wrong because she still wants to be with him. I also need a good paying job in my field I am It tech (computer close to home one that I will do well at Thank you, Toni Daniels
I will pray

3 people are

praying.

memory

posted by: easu sathish on 2/19/2017


Let me enjoy holy spirit.pray.
I will pray

3 people are

praying.